Older press releases
Contact us
for more information
OK
SLEEVER INTERNATIONAL Conference at PDA Congress at Luxe Pack, Friday 31th October 2008 at 5.00 PM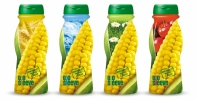 >""Désir durable", that's "Eco design"... is the theme of the 36th PDA congress in Monaco.
At Sleever International, our commitment to the environment is a daily goal. Sleever International invites you to share the way to sustainable development thanks to SLEEVER® innovations, in the conference organised during the PDA Congress (Grimaldi Forum, inside Luxe Pack exhibition), on Friday 31st October 2008 at 5.00 PM.
The
conference will be animated by Mr Eric Fresnel, President of Sleever International
.
---