Older press releases
Contact us
for more information
OK
Sleever® and Moët & Chandon crack open the champagne to celebrate the Formes de Luxe award!

January 11, 2021
The prestigious Champagne House Moët & Chandon has used Sleever's innovative know-how to decorate brut and rosé bottles of its Signature Impérial champagne. The successful result of this collaboration has been honoured with a Formes ... View more
---
Sleever's LDPET® rewarded for its contribution to the circular economy.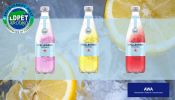 January 11, 2021
Each year,the AWA International Sleeve Label Awards recognise the world's most innovative sleeve products (heat-shrink labels). The award for environmental contribution was recently given to Sleever for its LDPET® product, the first ... View more
---

Top